Why restaurants should evolve their in-house ordering technology in a post-COVID-19 world
The restaurant industry is forever changed by COVID-19.

Difficult times have always inspired ingenuity—and surviving a quarantine is no different. COVID-19  has forced restaurant operators to rethink how they serve food at every touchpoint. Quarantine's shut-in culture resulted in consumers wanting something they didn't even know they needed—even more personal, convenient and safe food ordering and delivery.

As customer expectations for convenience and safety continue to evolve, there's pressure to provide service standards and options that appeal to all comfort levels of contact. To survive and thrive, businesses are prioritizing smart ordering technologies that not only help them meet these demands, but help them reduce costs, boost revenue and provide a seamless brand experience for customers.

These are some of the digital experiences that we see accelerating in a post-COVID-19 world.
Online delivery: even more mandatory
Third-party delivery aggregators like GrubHub and DoorDash had already gained a loyal following before the pandemic. But COVID-19 launched their momentum into the stratosphere. The benefits of these delivery services to restaurants are many: opportunities to reach new customers, increased sales and no delivery people to train and manage. But there are also a lot of headaches that have lasting implications, including: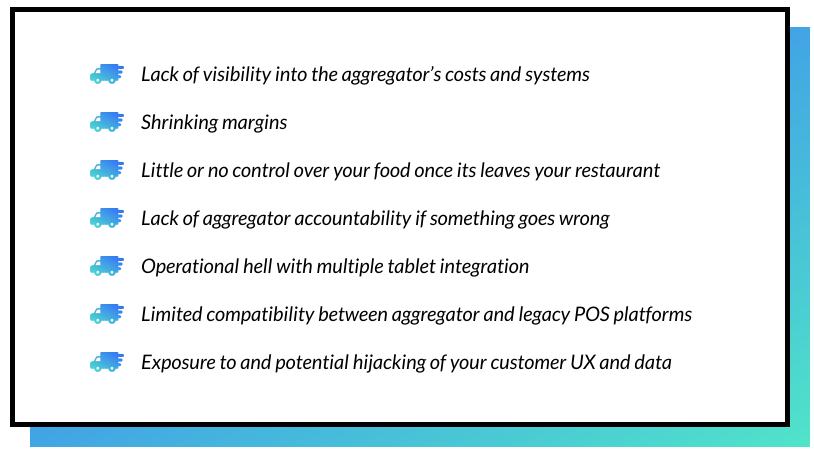 The bottom line? Using third-party delivery services is convenient for restaurants in the short-term, but not necessarily sustainable in the long-term for your ROI and your brand
The potential of off-premise
While delivery has boomed since COVID-19 hit, it's no longer enough. Restaurants have also started to evolve in other off-premise territory—namely via their drive-through, curbside and parking lot experience.

Drive-thru has shown to be the big area to pounce, particularly in the fast-casual arena. More and more businesses have unveiled their plans for better and expanded drive-thrus that include multi-lane ordering and payment, as well as attendee ordering (talking to a real person outside your car instead of to the speaker post). Dedicated curbside pickup—once considered niche—is now necessary, with hosts directing traffic to keep things humming. At the start of the pandemic, Qdoba, one of the largest players in the fast-casual space, was able to quickly pivot to curbside and expand their drive-thru experience. Other companies that have recently unveiled renderings of their new drive-thrus include Burger King, Taco Bell and Shake Shack.

Others, such as El Pollo Loco, are eliminating their dining rooms and maximizing their parking lot experience. Portillo's, which has always been known for efficient pick-up, has optimized its parking lot experience even more. Ghost kitchens are also getting traction.

All of these improvements haven't even scratched the surface of what's possible. But they have magnified the need for the right technology to promote seamless online ordering for restaurants without losing their shirts.

That's not to say that restaurants shouldn't find ways to integrate with delivery partners for supplemental solutions, if they're not ready to build an in-house capability up front in an effort to avoid using revenue-gobbling third-party aggregators for their food delivery, for example, some restaurants are actually turning to on-demand courier services like GETCHO or Uber Connect. These apps allow anyone to send items (including food delivery) to others. The benefit here is that these services charge restaurants zero delivery fees.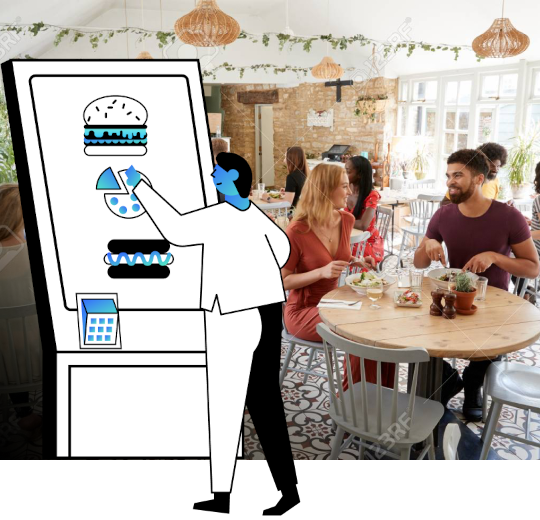 Tips to optimize online ordering for restaurant operators
To build a robust, flexible and human centered digital ordering experience, restaurant operators should consider the following:
TIP #1
Develop your own digital ordering system.
Again, third-party aggregators are great to help you get started. But they can deplete your overall revenue and even negatively affect your brand long-term. When you outsource your online ordering and food delivery to a third-party, you lose control of the customer experience, your data, your profit margin and sustainable revenue. Using your own system can help you take back control of your customer relationships and business growth.
TIP #2
Put your data in the Cloud.
With advances in POS equipment and the amount of information being captured, it's essential that restaurant owners have a centralized source to consolidate and analyze information. The Cloud is where your information can be safely accessed and processed easiest so you can enable real-time features. You can also analyze sales, manage costs and make data-driven decisions. Services like Amazon Redshift or Snowflake are fast, simple and cost-effective cloud storage services that allow you to easily manage and analyze your data.

It's important to note that centralizing your data in the Cloud is especially important for identity management, so you're not storing customer's personally identifiable information (PII) such as credit card numbers on local resources that aren't as secure.
TIP #3
Ensure your menu is distributed everywhere.
From tablet to drive-through, it's critical that you centralize your menu management—and centralize the right things (e.g. your POS systems). One of the best benefits of Cloud based technology is the ability to easily integrate with other systems. With APIs and other integration methods, your software solutions can talk to one another and share data across stores and systems better and faster.

Headless content management systems are gaining popularity over traditional CMS for being easier, faster and more flexible to develop on. Built around the developer's needs, a headless CMS is ideal for complex designs and multiple integrations. Developers have full control to build and customize workflows from any platform (e.g. kiosks, apps), program language or device and can rapidly prototype content management features with tailored user interfaces and modules
TIP #4
Build systems that can access customer information quickly to enable personalized features—and then build a great experience around it.
Something as simple as having a common login for users enables a much better customer experience, including the ability to use rewards points, quickly access repeat ordering and receive customized food suggestions.
TIP #5
Build a full-stack strategy for your store.
Ideally, the front-of-house systems should be connected to the back-of-house systems – purchasing, inventory management, HR, team management software and even marketing – enabling data to be shared and used within the entire restaurant tech stack. That way, you have a complete ecosystem—anchored by a central hub which acts as the main data store—through which you can identify solutions that best suit your needs.
TIP #6
Maintain a clean and consistent design in your user experience.
It may sound elementary, but using flashy or complicated design in your menu will only distract users and lead to more abandoned shopping carts. Simple is better. A clean interface also means deliberately selecting the information, elements and acts that are most useful to your customer.
TIP #7
Use hybrid technology to build your applications
Using hybrid applications such as React Native or Flutter to build restaurant e-commerce sites are becoming more popular. The tech can run across multiple platforms (web, mobile, iOS, Android, etc) with minimal customization. Therefore restaurants end up paying less for development. It also helps you maintain a more consistent design (see Tip #6).
Ready to rethink your online ordering experience?
The key to a successful online ordering system is having a feature-heavy platform that is easy to adopt and aligns with your restaurant's core needs. Existing systems weren't built to meet the complexity that these platforms require to meet food service of the future. And while many restaurant operators have done their best to work around this, the time is now to align your business to scale, so you can focus on doing what you do best: serving your customers.

Learn more about how Airro customized online ordering solutions can be fully integrated into your business to ensure a frictionless customer service experience and help you grow.